Understanding the Pipe Lining Process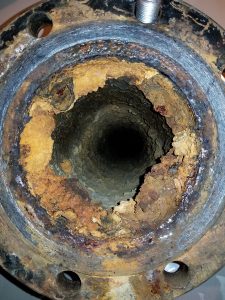 Trenchless sewer repair is an innovative method for restoring damaged subsurface piping to full operation once again. We here at Nu Flow AK are leading providers of trenchless pipe lining in Bellevue, WA, and we offer the following information on what you should expect if your commercial property ever requires sewer lining services.
Diagnosing the Problem
The first step in the trenchless pipe lining process is determining the exact nature of the problem. Trenchless pipe lining is not an appropriate remedy for every sewer pipe dilemma, but it's highly effective when used to address tree root penetration, debris build-up, cracking and pipe corrosion. This diagnostics step can also be applied to the cast iron pipe lining process.
Preparing the Pipe
Before the pipe can be relined, it must be thoroughly cleaned to remove tree roots, soil and other accumulated solid material. This can be performed using a drain snake or by jetting with a powerful spray of pressurized water. Cleaning the line before CIPP lining also allows us to delineate the extent of the damage and pinpoint areas that may require further attention.
Installing the New Liner
Trenchless pipe lining is conducted using pre-existing connections or access points in the pipeline. The epoxy pipe lining material is threaded into the line and inflated to fit the interior of the pipe while it's still soft and pliable. The lining material is thin and takes up very little space inside the pipeline but cures to form a strong new surface that's resistant to damage.
Make Nu Flow AK your preferred contractor over other pipe lining companies in and around Bellevue, WA.
Call for More Details Today
Contact us for an on-site consultation at the first sign of sewer line troubles. We'll quickly respond to your request for help and offer you our next open appointment slot when you call.
Contact the experts at Nu Flow Alaska to schedule your service.